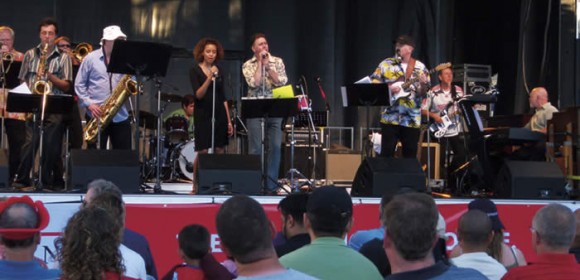 When attendees leave your next event, they won't talk about how great the stereo playlist was, instead they'll be thinking about the venue, the food, and of course the entertainment. Hiring live bands for events can make all the difference between an event that's great, and something truly memorable. But remember that not just any band will fit the ticket. Live bands for events shouldn't merely be set aside for background music, but rather should act as entertainers and experienced musicians that can tailor the music to every event.
If you aren't convinced already, here are 4 reasons why you should hire live bands for events to get the most of your entertainment budget and give your event a name to be remembered.
Reason #1: Live Bands Know How To Set The Mood
Live bands for events are able to gauge the mood and attentiveness of their audience and switch up the type of music played so that it fits appropriately with the moment. If attendees are starting to look tired or warn out, the tempo can be turned down to give everyone a chance to recuperate.
Some of the best live bands for events know a wide range of a songs and instrumentals to keep everyone happy throughout the night; these songs are also generally accompanied by a wide range of percussion, brass, and wind instruments to achieve a full range of sounds.
Reason #2: Live Bands For Events Sound Better
The problem with putting together a playlist or hiring a DJ is that the quality of the sound is dependent on how much money you are willing to invest in the speakers and sound systems. When you depend on your music coming from speakers or a DJ, you also have to come up with some key considerations regarding the venue.
Hiring live bands for events ensures that you are receiving the optimal sounds and experiences directly from the musicians and instruments. You'll never have to play around with the sound set-tings or volume, you won't need to make sure that you have enough electrical outlets nearby, and by hiring a live band, you'll have one less thing to worry about.
Reason #3: Live Bands For Events Are Classy
Live bands for events are timeless classics that can give your event a sophisticated look and feel. Any event featuring a live band is sure to be a hit among your attendees and can fit in with any theme.
Reason #4: Live Bands Are More Than Just Music
A band is meant to provide your event with music, but it can be so much more than that. When you hire live bands for events, sure you are going to get some fantastic musical entertainment to enjoy throughout the evening, but you are also going to get so much more. Some of the best bands around like The Bluesual Suspects help to engage the audience, work the crowd, and make sure that your event is a true success from the very beginning.