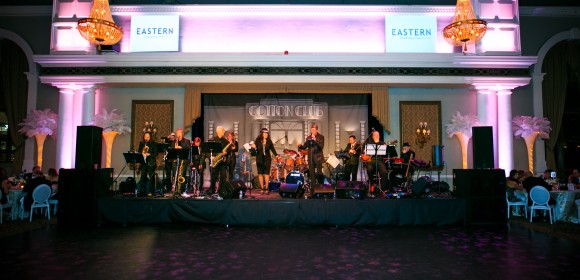 The Bluesual Suspects Party Orchestra knows a thing or two about the correct placement of a band in your venue. Whether you have hired us as a Corporate Events Band, a Toronto party band, Toronto wedding bands or as a band for fundraisers, we can advise you of the optimum placement that will deliver the best sound and best sight lines.
There are a few factors that we weigh when making this assessment. At a recent event where The Bluesual Suspects Party Orchestra was hired as a Jewish Wedding Band, a good example can be provided of this process.
The ballroom was long and narrow, the ceiling was of medium height and there were a lot of soft surfaces.
Most of the time, bands are told by the venue to set up along the length of the long wall so that they are playing into a very near wall on the other side. This is not ideal. During the live band hire, I pointed this out and the decision was made to set up on the short wall in order to play to the length of the room.
What a difference! The venue told us that music never sounded as good as it did for this Toronto party band.
They said that their policy would forever change when they hire live bands. Not only was the sound impeccable, but the guests for this Jewish Wedding Band made for a wonderful visual experience as well.