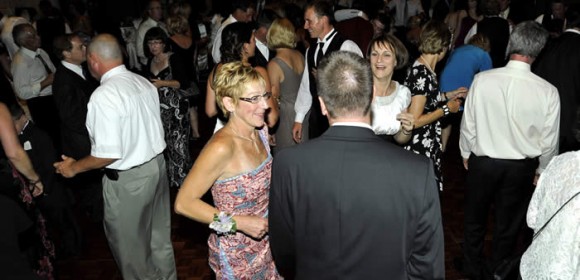 There are very few other events in your life that demand more planning than a wedding. After the dress, the cake and other goodies to be served, and the invitations, the biggest decision is entertainment. Yes, there are a lot of live wedding bands in Toronto. But the multi-genre group The BlueSual Suspects are (if you'll excuse the analogy) the icing on the cake when it comes to the best.
1. Experienced Musicians
Unlike other Toronto based live wedding bands, The BlueSual Suspects consist of a diverse collection of musicians who all come from different traditions. Rick Precious has travelled all over the United States and Canada and has his influences in both pop and jazz, guitarist Phil Kane has played with Michael Buble, and Jay Specialize has seen it all (from Ben E. King to the Mamas and the Poppas). These aren't your ordinary wedding band singers – these are professionals who have been in the music industry for decades, and played with some of the best that the world has to offer in the way of blues, jazz, and pop legends.
2. You Know A Good Band By What They Can Play
This might seem a bit obvious, but the best live wedding bands Toronto has to offer don't stick to one instrument each. Every member of The BlueSual Suspects Orchestra (although they may have a favourite) can play a variety of instruments, a handy skill set when you can find yourself switching at the flip of a coin from a blues number to a pop number on stage. Saxophonist Simon Wallis exemplifies the multi-instrument artists, able to move seamlessly from bari to tenor to alto to soprano, sometimes all in one song.
3. Value
Another key component that makes The BlueSual Suspects not only crowd favourites, but also friends of the bride and groom's parents, who usually end up fronting the bill. With most big bands, the price goes up – and yet, for the kind of quality music and entertainment that you're getting, they always have reasonable rates. This is because they're not in it solely for the money. Yes, The BlueSual Suspects is a job – but more importantly, they love what they do: playing music for people who love to listen.
4. Video Recording
With other live wedding bands in Toronto, you can never be sure about the quality of their video recording. So, instead of hiring that zit-faced teenager with a steady cam, The BlueSual Suspects make it easy for you, by offering their own video recording service for your wedding. The professional filming and editing guarantees that you will have a memorable way to relive your special day years from now.
5. Entertainment Is More Than Music
The role of a musician is to play music. The role of a wedding band musician is multi-faceted, and as one of Toronto's best live wedding bands, The BlueSual Suspects take this philosophy to heart. This means interacting with guests at the wedding reception or event, and appealing to everyone's taste in music and humour. No matter the circumstances, The BlueSual Suspects engender the very essence of what it means to be true performers.