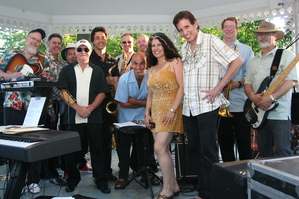 Finding a high quality wedding band can be a bit difficult if you're not exactly sure what to look for. Its essential that wedding planners do their research before determining what type of wedding band to go with.
Let's take a look at some of the things that high quality wedding bands in Toronto will have:
Videos of Performances
It's going to be very difficult to decipher the quality of the wedding bands Toronto has to offer unless they give you the ability to actually see some of their past performances. Seeing them perform in a wedding setting will you help see exactly how they react to the crowd and what kind of excitement they can bring to a wedding. Most of the higher quality and experienced wedding bands will have these displayed on their website.
Check out some of their videos and see if you can picture your family and friends enjoying the performers. If they don't have any videos available online or when you ask, that should throw up a bit of a red flag about potentially hiring them.
Musical Selections
This might be the most important part of choosing live bands for events. It's always nice to have a wedding band that can successfully play multiple different genres, as it helps satisfy a larger audience.
If you're planning on choosing one of the Toronto wedding bands to play your first dance, son/mother dance, and daughter/father dance, then you're going to want to make sure that they have the ability to play those songs. Many of the best Toronto wedding bands will have a litany of popular slow dance songs for you to choose from even if they don't have the exact one that you're looking for.
Excitement and Enthusiasm
Judging from their videos and variety of musical selections, you'll want to be sure that the wedding band you're going with is able to provide the necessary amount of excitement and enthusiasm. Can they consistently get people up and dancing throughout the reception? Checking out reviews and reference from past clients is a great way to judge this.
While excitement and enthusiasm is essential for a great band, make sure that this excitement and enthusiasm doesn't turn into awkwardness. Meet with the leader of the band and be sure that they have the personality that you're looking for. While bands do provide the entertainment for a wedding, some wedding bands seem to take the attitude of feeling as if they're the main attraction. The last thing you want is for the band that you hire to try and take over this special day.
The importance of the entertainment at a wedding simply can't be understated. People may forget parts of the wedding itself, but everyone is going to remember the time that they had at the reception. Make sure that you're doing the proper reconnaissance in order to find the best wedding bands Toronto has to offer.