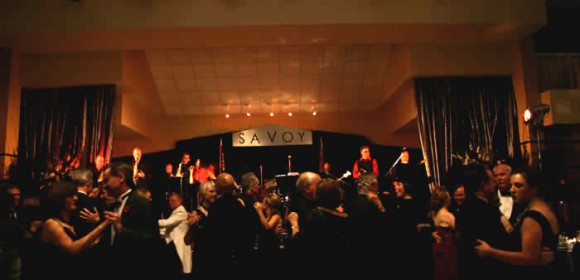 Well, that was sure a busy week for this Toronto event band. Fall is generally the time of year when The BlueSual Suspects do a few less weddings as wedding season tapers off and we gear up for the corporate event and fundraiser season. This time, it was like a switch was turned on as the transition was sudden.
Our schedule started off with a corporate party for a company who was celebrating their 25th year in business. What a nice party it was…dancing, great food and a fantastic vibe. The client wanted it to be a special night given such an important milestone, so we started the cocktail hour with a classy jazz duo of flute and guitar just outside the ballroom. Then, as guests entered the ballroom, the band was ready and welcomed them with some lush dinner music. After dinner, our 6-piece horn section joined in and suddenly it was part mode!!
A few days later, and it was The Colon Cancer Gala. With the full band playing through the dinner hour and right to the end of the night, I thought to myself: how nice it is that The BlueSual Suspects can control the volume and intensity enough to play through-out dinner. My sound technician is a master at controlling the volume. With his trusty decibel metre and professional musician's ear, there is never an issue about volume. Then of course, after dinner, we know how to get people excited. Not just about dancing, but in this case, since it was a fundraiser, we pride ourselves in getting people in the mood to bid and donate to such a worthy cause!
The very next day we were in the Niagara-On-The-Lake area. What a beautiful, sunny day it was for this late September event. Set up outside on the majestic grounds of a castle-like winery, guests started to arrive at around 6pm. We played as they strolled around the grounds checking out the rows of grape vines and sampling the wine. It was like something out of movie! Again, I was thinking of all the different types of Toronto-area events we are asked to do and how each one calls for a unique feel or approach. The event started as a jazzy late afternoon wine party, but I can tell you that by 10pm, it was and all out rock fest. Afterwards, the woman who had hired us and who was ultimately responsible for planning this national event, came up to me and said the words of love to hear most: "you made me look so good, Jeff".
Just a few days later on Oct. 1st, we're at The Mattamy Event Centre (Maple Leaf Gardens) in Toronto, surrounded by the biggest names in hockey and sports. Talk about a change in venue! We were hired to entertain for The Twins Gala honoring Dennis Hull and Ron Ellis. This was a fundraising event for concussion research and rehabilitation. What an event! Guests included Bobby Hull, Bobby Orr, Paul Henderson, Serge Sarvard, Pinball Clemons, and on and on. Musically, we did everything from the national anthem to bringing up these amazing legends to the stage with specially selected musical stings. Hosted by the Brian Williams, it was a huge success. Once again, I was so proud that The Bluesual Suspects is a band that is capable of entertaining at such a wide variety of Toronto events. If there was ever a week that proved it, this was certainly the one!