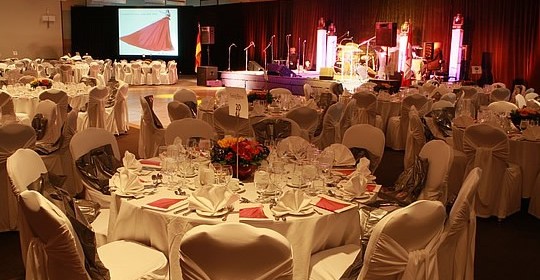 When trying to organize the best live wedding band in Toronto for your special day, there are a number of things that soon-to-be-wedded couples often overlook in the process. Let's take a look at some important questions and considerations:
Contacting the band. Many live wedding bands in Toronto have a website or phone number, which makes it easy to contact. However, more and more, you will see bands being represented by agents who are responsible for event planning.
Time and location. The most basic information should come first – is your choice of live weddings bands in the Toronto area available for your wedding date, and if so, are they able to make it to your venue?
How many shows did the band do in the last year? The best wedding bands of Toronto often have a very busy schedule of performances and events, which will be testament to their popularity and quality.
What is your instrumentation and genre? Again, the most popular live wedding bands will be multi-genre, and have a variety of instruments, in order to provide a versatile musical experience, and ensure that they appeal to your taste. This is crucial.
Do you have examples/videos we can watch? A growing number of wedding bands, including The BlueSual Suspects, have pre-recorded videos of their performances at weddings, galas, and concerts, and make them available to clients. Additionally, they also offer video recording services for the wedding itself.
What is your rate? Of course, hiring a wedding band involves money, and negotiating a price (either as a flat fee or per hour) with the band leader and agent is the next step in this process. Keep in mind that good bands cost more than cheap cover bands – in the end, you can't put a price on the quality of atmosphere a truly experienced band like The BlueSual Suspects can bring to a wedding reception.
What do you wear? A hugely overlooked aspects of weddings, it is imperative to question the band about their attire, especially if you are having a very formal wedding. Again, the best Toronto wedding bands for hire have a variety of costumes and suits to accommodate any kind of venue, whether it's formal black tie or casual.
Do you do your own sound system? Some bands require a sound technician to be hired in addition, but some groups like The BlueSual Suspects come equipped with their own sound. You'll be dealing with a group that has spent a lot of time handling their own sound, but it's an important question to ask in order to make sure you don't have to hire another company.
Do you have references? The best live wedding bands in Toronto have their own website, and it's a quick and easy way to check how legitimate they are. These websites almost always have a testimonial page, so you can check and see what others have said about the band – the best wedding bands in Toronto will also have a list of professional references available on demand.