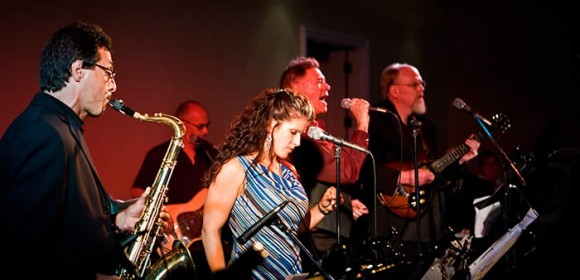 So that special time has come at last, and amidst all the planning of a wedding (from finding the perfect dress to organizing tables and trying to keep Aunt Linda away from the appetizers), you finally come to narrowing down the selection to the best Toronto wedding band you can find for your reception.
For new brides and grooms, this can often be more taxing and stressful than any other decision they have to make about their wedding. Which is why Toronto based wedding bands like The BlueUsual Suspects can seem like a godsend to the young engaged couple at the end of their rope.
Making It Simple
One of the band's foremost musicians and entertainers, and the man behind the planning and politics, Jeff Mandell, has been on the live wedding band circuit in Toronto long enough to know that no one needs additional stress – lots of testimonials have nothing but good things to say about his casual easy-going demeanor. Jeff understands that there are a lot of other more important things that brides and grooms need to be focused on than organizing live bands for their events (and if you asked him, he might wink and say "each other"), and his band is excellent at putting minds at ease.
With a wide selection of different songs from an extensive number of different genres, including R'n'B, pop, jazz, rock, and blues, this Toronto wedding band has music for every occasion. And it is a comfort to know that as entertainers they have their whole routines planned, and can keep an audience dancing long into the night with a fast moving vocal piece, or hold that same audience in awe with a slow number.
It's All About Tradition
There is a whole culture around Jewish wedding bands that is often parodied and oversimplified in the media, but a good Jewish wedding band like The BlueSual Suspects knows the ins and outs of a traditional wedding. And they take pride in showing off the richness of those traditions, both to Jewish and non-Jewish guests alike, who may be experiencing it for the first time. Perhaps they're singing a slow number at the end of the bride's pre-wedding reception, or cranking up the speed at the groom's tisch.
Regardless of the occasion, the number of guests, or the style of wedding, The BlueSual Suspects exemplify everything the best Jewish wedding bands ought to – they can gauge the atmosphere and mood of a room, and deliver on a whim a musical choice that is appropriate to the moment. Whether that means lighting a fire under the feet of the audience and getting the whole room to clap along, or slowing right down near the end of the night with a fading denouement.
Ultimately, it's about meeting the expectations of the bride, groom, and their parents, and not only meeting those expectations, but exceeding them. It's something that The BlueUsual Suspects pull off time and time again, which is why they've been touted as one of the best bands for hire in Toronto – for them it's not just a job, it's the chance to share their passion for music and culture with people that love music just as much as they do.