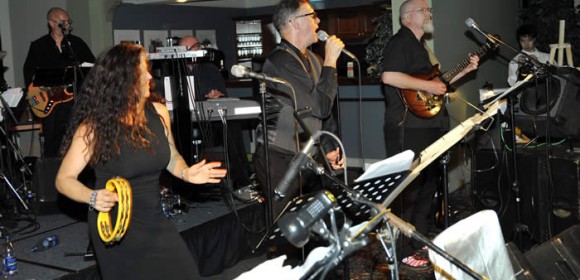 A lot of brides and grooms to-be often find themselves in a pickle when it comes to supplying music for their wedding, which involves browsing through dozens of live bands for events trying to find the best Toronto wedding bands available. And the multi-genre group The BlueSual Suspects usually tops the list.
Although it might seem like a trivial role in the grand scheme of things, the wedding band more often than not becomes the glue that holds the reception together. As the night grows later, and people start to enjoy themselves and unwind, the responsibility of the band comes full circle and a careful selection of which band can make the difference between a mediocre wedding and a wedding that people will talk about for years to come. Let's look at what makes The BlueSual Suspects one of the best Toronto wedding bands available.
Genres
This is an obvious point, but one which is often overlooked when people are looking at options for their wedding band. Usually both bride and groom have a favourite style of music or a favourite genre, and will base their decision solely on that. This may involve hiring a band that specializes in rock, or a band that the bride and groom are personally acquainted with – which is of course, not to suggest that they won't bring the metaphorical house down with their music! But all the members of the The BlueSual Suspects understand the importance of thinking ahead and understanding that not everyone at a wedding reception may enjoy the same type of music. And then, to try and appeal to as many guests as possible. Considered one of the best Toronto wedding bands for hire, The BlueSual Suspects specialize in a broad variety of different genres, each member coming out of a different tradition, whether it be bluegrass, R'n'B, or classical big band. And usually, they'll have a few comedic pieces up their sleeves as well (can anyone say Weird Al Yakovic?).
Appealing to All Ages
Something else to consider when looking for wedding bands in Toronto is the diverse array of guests, ranging from grandparents in their seventies and eighties, to young children. As much as a wedding band is there to play music, they also play a decisive role in the dynamics of the reception. They act as mediators and diplomats among all generations, and this involves a degree of tact, humour, and sensitivity. Ultimately, the best wedding bands of Toronto are also excellent purveyors of customer service – being able to make everyone feel welcome.
This, as The BlueSual Suspects demonstrate time and time again, always comes back to the music. A truly versatile wedding band is able to plan ahead, both in terms of supplying the song of the bride and groom for their first dance, and including a range of different music to appeal to every generation. The success of live wedding bands in Toronto is not measured on how well they take to the stage or hoard the spotlight, but by how well they can put that spotlight on the happy couple and their special day.