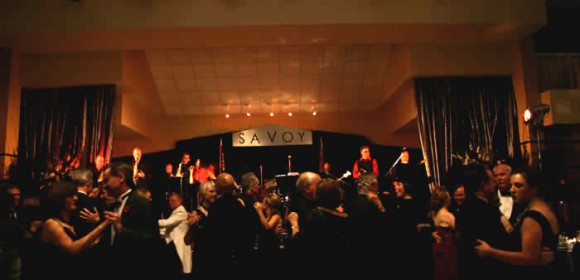 The biggest part of planning your wedding is complete! Somehow you've managed to accommodate everyone's dietary needs, you've found a last minute tailor to repair your bridesmaid's dress, and your wedding band is on the way. A lot of grooms and brides think that they can sit back and relax at this point, but there are still a few things you can do to make sure things go smoothly.
Organize Requests
While the best Toronto weddings bands can generally hold the event together without supervision, coordinating with the band leader is an easy and effective way to make sure that you will the get the right kind of music for your reception. The best bands for hire, like local orchestra, The BlueSual Suspects can play in a variety of genres, and have a huge repertoire. So, meeting beforehand to discuss what sorts of songs you want played at certain times throughout the night goes a long way towards making the night memorable. For example, if you have a favourite number that you would like to have played for the first dance, or a funny upbeat number to have just for the bridesmaids and bride. Additionally, the band itself may have some suggestions to make the night pass easier, whether that means switching between slow and fast songs, or playing the song of the bride and groom.
Set-Up Beforehand
To ensure that the reception or gala starts off without a hitch, the best hands for hire need plenty of prep time. This is to make sure that all their instruments work properly, that each band member is well prepared and knows in advance what the line-up of songs is, and are versed in any additional information that the bride and groom may want to convey. This can also involve choosing where and when the band will set-up. The choice of locale can vary greatly, depending on what kind of musical and entertainment experience you want, but keep in mind that big band groups like The BlueSual Suspects don't need a big stage since half of the band is the horn section which doesn't take much room to accommodate their instruments. Of course, don't forget about room for dancing!
Is Your Sound System Ready?
It is also important to have plenty of time to make sure the sound-system is organized, and this will help your wedding band dive right into the music. This can involve hiring a sound technician, but as one of the best wedding bands in Toronto, The BlueSual Suspects come equipped with their own sound system and sound technician. So, there's no need to help them find the right plug-ins, supply extra extension cables or even worry about logistics at all. Everything will run smoothly. One less thing to worry about.
Check The Weather
This may seem like a no-brainer, but especially for big bands that have a lot of equipment and electronics, it's important to always check up on the weather forecasts – although the band is in part responsible for this themselves, having a back-up plan is always a good idea too. For example, being able to move indoors quickly, or having a covered stage. The choice of venue should be decided on in reference to a number of different variables, and The BlueSual Suspects are very easy-going and more than happy to work with newlyweds to ensure the best quality experience for their guests.