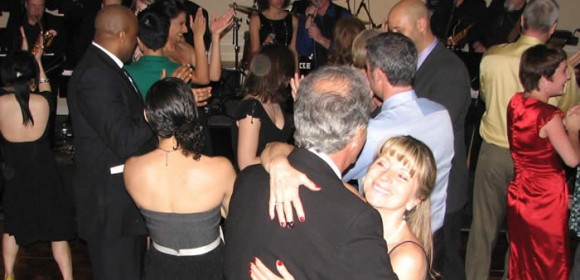 Most weddings happen in the early spring or summer, when the weather is warm and the reception can be held outside where guests can dance and enjoy the outdoors. This means most wedding bands in Toronto like The BlueSual Suspects have this as their high season. But what happens when the weather turns cold and winter arrives, especially for those of us in the Northern Hemisphere where wind and snow and sleet take up almost half our year?
Although their title as one of the best among "live wedding bands of Toronto" seems exemplary only to weddings, the fact is that The BlueSual Suspects are being recognized as one of the best wedding bands around Toronto and can fit a variety of roles, especially in the off-season. Unlike members of a rock band, or a blues band, or a jazz band, who emphasize a repertoire of songs in one genre, these wedding band musicians are the proverbial jack-of-all-trades in the music industry. This involves not only taking on the role of musicians and entertainers, but being sensitive to their audience and delivering a performance specially designed for them.
Other Venues
Most of the musicians in The BlueSual Suspects got their start doing what they love – whether that was starting their own bluegrass band down south, standing front row in a notable orchestra, or just singing in the shower. But what they all have in common (other than their passion for music) is an ability to cross genres, giving a well-rounded performance that can appeal to a variety of music lovers, and be able to cover a wide and inclusive range of generations, from classic oldies to hot-off-the-track covers of new singles.
This is why the best wedding bands in Toronto, like homegrown favorites The BlueSual Suspects, are becoming more and more popular not just at weddings, but at other big events and venues that call for a musical interlude. These can include anything from birthdays and Jewish bar mitzvahs to year-end corporate banquets and festivals. A lot of engagement parties and anniversary parties are also becoming more popular, and being able to include a well-recognized and talented wedding band for hire to facilitate entertainment is often at the top of the list.
Pricing
Something that always comes as a concern, whether you're planning a wedding or a fundraiser, is balancing the cost of a band versus the kind of quality people are looking for at your event. Generally, the bigger the band, the pricier they end up being – which is an integral reason why The BlueUsual Suspects have received such meritorious praise among the best Toronto wedding bands. Not just because of their ability to keep a room alive with toe-stomping and head-nodding, but because as far as other wedding bands in the big city go, they're right on par.
This makes them an ideal choice as one of the best bands for hire in Toronto. They can count themselves among one of the most reliable bands for events of any kind– from a small personal gathering of friends and family, to a boisterous crowded room full of strangers.